Phone vs. Professional Real Estate Photography
Schedule Your Session  View Our Real Estate Photography Services

Table of Contents – How Professional Real Estate Photography Compares to Phone Photos
In a real estate market where most prospective home buyers start their search online, and you only have a few seconds to capture their attention, the quality of your listing photos is vital. Attractive professional images receive more clicks, help grab the attention of the most qualified buyers and compel them to schedule a showing. Homes listed with professional real estate property photography actually spend less time on the MLS list and sell faster than those with amateur images.
While it may be convenient to use your smartphone to take listing photos, there are many reasons why you should enlist the services of a professional real estate photographer instead. Although smartphone cameras have come a long way in producing good quality personal photos, they weren't designed to capture the indoor or exterior views of a home that will sell fast. DSLR cameras are technically superior to smartphone cameras and have more versatile equipment that allows them to take higher quality photos.
Hiring a professional photographer offers numerous benefits that help you market your brand effectively to potential clients, establish a solid reputation and make an impression that will continue to bring in business. A pro's expertise in photo composition and editing produces high-quality photos that help you beat the competition, especially in competitive list price brackets where agents and brokers have to work very hard to stand out. Hiring an experienced photographer saves both time and money and is a necessity for any successful real estate professional.
How Pro Photography Compares to Phone Photos
Professional photography is superior to amateur phone photos in several ways:
1. Technical Superiority

The equipment used to take listing photos can mean the difference between good and bad real estate photography. When comparing camera phones and digital cameras, there is no question that DSLR cameras are technically superior. While smartphones offer both convenience and web connectivity, they can't produce the same high-quality photos as a traditional DSLR camera.
Amateur cameras can't give the scenic impressions produced by professional cameras. DSLR cameras possess features that create beautiful, high-quality photos that smartphones just can't match.
These include:
Sensor: One big difference between smartphone cameras and DSLR cameras is the sensor, which allows light to enter the camera and capture as much detail as possible. The size of the sensor determines how detailed your images will be. Smartphone sensors tend to be small, resulting in more pixelated and lower-quality images. Sensors in DSLR cameras are larger, allowing more light and detail to be captured. In low light settings, such as in indoor real estate photography, a larger sensor will result in much better photos.
Interchangeable Lenses: Professional cameras have wide-angle lenses that can provide views no smartphone can. While there are several accessories available that can allow smartphones to create special photo effects such as wide-angle, macro and fish-eye, they cannot produce the same quality of photos as cameras that use interchangeable lenses. Since prospective buyers want as much detail as possible in home listing photos, listing photos need to capture as much of each room as possible. Only professionals using DSLR cameras can capture floor-to-ceiling views and other architectural features of a room without distortion.
Shutter Speed: Shutter speed controls how long the camera's sensor is exposed to light. Slower shutter speeds result in more light reaching the sensor while faster shutter speeds result in less light. Slow shutter speeds can result in blurry photos when taking pictures of a moving object. However, in real estate photography, where the subject is stationary, slower shutter speeds can help compensate for a lower light level. This is usually better when taking indoor photos. With a DSLR camera, photographers have full control over the camera's shutter speed while on a smartphone, there is not as much control over the shutter speed.
Picture Quality: The image quality of photos taken with DSLR cameras is far superior to those taken with a smartphone. DSLR cameras produce images with a higher resolution and image detail along with a more vivid color range. Smartphone pictures tend to look more pixelated and washed out when compared to photos taken with a camera. Highly-pixelated pictures look blurry when enlarged which can affect how prospective buyers perceive the home. You want them to be able to see as much detail as possible when zooming in on the photos.
2. Expert Advice

Hiring a pro can help a real estate agent look more professional, in turn helping them to earn future business. Sellers prefer agents and brokers who use the services of a professional photographer and take those who use professional photography more seriously, which often results in more referrals. Beautiful photos evoke emotions which can greatly shape the perception the viewer has of the home.
Properties with professional photos taken with a DSLR camera can attain prices between $1,000 and $18,000 higher than those with photographs from a point-and-shoot. High-quality photos help determine the selling price and can even affect whether the home sells at all.
Agents and brokers have the training and skills needed to sell homes to people but may not have the skills of a professional real estate photographer who can produce high-resolution images that can't be done by an amateur. They have helpful real estate photography tips that can capture your listing in the best possible way that will draw in potential buyers.
These include:
Best angles and lighting: A pro photographer is skilled at bringing out the home's best features through the use of proper angles and lighting. They also have the right equipment such as tripods and lighting setups, along with the know-how to use them. Front photos should be taken from the best vantage point that offers the most curb appeal and natural lighting should be used as much as possible. In real estate photography, the addition of supplemental lighting is sometimes needed to ensure that interior shots photograph properly.
Perfect composition: Good photos must be properly composed to determine the focal point and what elements should be included. A pro photographer will ensure that your listing photos have well-aligned horizontal and vertical lines that draw the eye to the desired points of the room. They also know the right number of shots to take, ensuring that the most desirable areas of the home are showcased without excessive photos that don't add any value to the listing. Pro photographers have the right camera lenses to reduce distortion and capture a wider space.
Preparation for listing photos: Home sellers may not be sure how to best prepare their home for listing photos and usually rely on the expertise of their agent or broker for help. Professional photographers can provide a home preparation checklist for you to give to the seller. This will help you and your client to prepare the home and ensure it looks elegant and attractive to would-be buyers. This includes what items need to be removed, cleaned and organized in both the interior and exterior spaces.
Staging: When viewing a home listing, prospective buyers need to picture themselves living there. For this reason, many home sellers think that an empty home equals a blank palette. However, an empty house does not evoke any emotion and can actually turn off prospective buyers. Furthermore, an empty home never sells for as high a price as a properly staged home. Professional real estate photographers know how to properly stage your home to reduce distractions and help buyers determine if the house is right for them. Furnished rooms keep viewers interested for longer and helps them to see the home's style, size and functionality. Some real estate photographers offer virtual staging where furnishings can be digitally added to the photo.
3. Unique Photo Editing

Using the services and expertise of a professional real estate photographer also gives you many more photo editing options can't be achieved with a smartphone. Even with the most sophisticated photo editing app, pictures taken on smartphones can't match the quality of those taken with a DSLR camera. For example, a photo taken with a professional camera will have much more detail and depth of field than one taken with a smartphone and will also look more polished and clean right from the camera. The lenses and filters available for use with DSLR cameras also produce photo effects that are not possible with a smartphone.
After taking the pictures, your photographer will choose the best photos and begin editing them. This requires the use and knowledge of professional photo editing software. Even the most skilled photographer enhances their pictures to ensure that all of the elements of the home look their best. Some of the most common editing tasks in real estate photography include:
Color correction: Home listing photos must be edited to ensure color accuracy. The whites of the molding, ceilings and other home elements should be bright, the sky above the home should be a beautiful blue and the lawn should have a lush green color. Windows should be edited to be see-through and show the best views. Indoor lighting should be the same in each room and appear natural and real.
Perspective and distortion correction: During the editing process, your listing photos will also be corrected so that they appear clear and straight. Distortions will be removed so that your interior photos don't appear warped and the perspective will be corrected to ensure that your images are both vertical and level. Professional photographers carefully check and edit images to ensure that there are no awkward edges or objects that appear in the photo.
Virtual staging: Virtual staging is a photo editing process that is made to make your unfurnished listing look fully furnished. The staging process takes place after the initial listing photos are taken. There are many advantages to using virtual staging including the flexibility it offers and the cost-effectiveness. Virtual staging allows you to stage only those rooms that you desire, for a fraction of the cost of traditional home staging.
Twilight conversion: Professional photographers can also add special effects during the editing process that enhance the home's appearance and help prospective buyers see additional views of the property. The twilight conversion effect essentially creates a lovely evening sky above and an inviting glow from within the windows of the house.
Once professionally edited, the photos will then be yours to present to the home seller and use on your website, social media accounts and print publications. Consider the addition of both aerial photographs and virtual 3D tours to your listings, which are features used by many prospective home buyers today. In addition to professional still photographs, these features also help to attract both local buyers and those who live outside the listing area.
Schedule Your Session View Our Real Estate Photography Gallery
4. Saved Time and Effort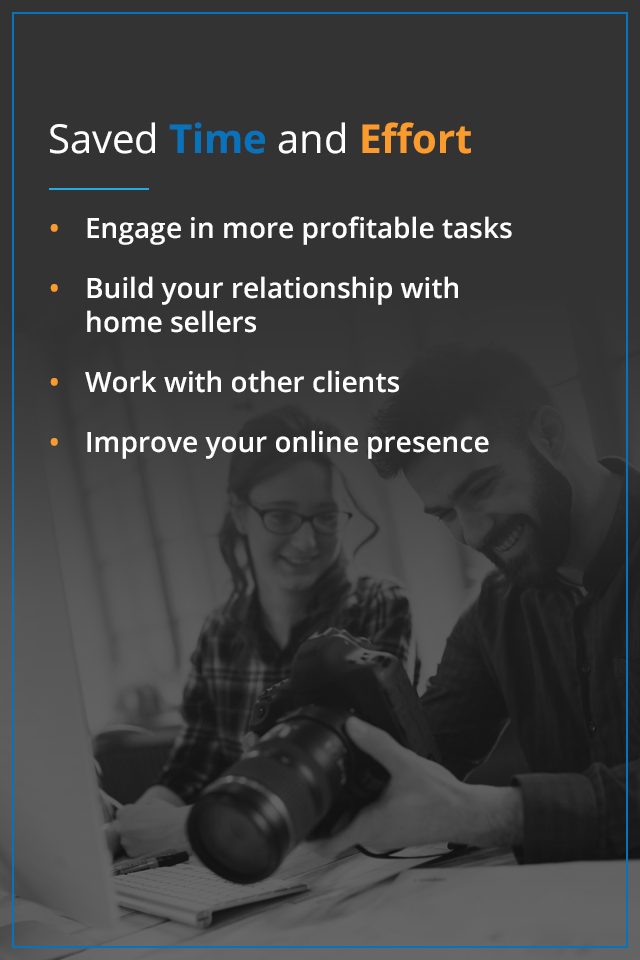 Photographing each room in a home takes a significant amount of effort and attention to detail, not to mention time that could be spent on tasks that help grow your business. Hiring a professional photographer who focuses on taking high-quality real estate photos will save you several hours or even days of work. By hiring a pro, you save time and avoid the frustration that comes when you try to upload, resize and professionally edit your own smartphone photos. The benefits of having the expertise of a highly trained professional who has photographed thousands of homes are truly priceless.
Other benefits of hiring a professional real estate photographer include:
Quick turn around time
Not having to be present at the listing location during the photo shoot
Professional photos that can be easily downloaded for immediate use
Working with a real estate photographer can free up real estate agents and brokers to do many other important things such as:
Engage in more profitable tasks: When you don't have to worry about your listing photos, you have time to engage in more lucrative tasks that will help you grow your business and profit margin. Creating new listings, showing homes and closing with clients are the critical activities on which real estate agents and brokers should be focusing, not time-consuming ones, such as listing photography, that can be easily outsourced to a competent professional.
Build your relationship with home sellers: Positive word of mouth is a powerful tool. When home sellers are happy and impressed with the beautiful photos of their home and how quickly it was sold, they will refer you to their friends, family and neighbors. Professional photos give your clients confidence in your ability to sell their home quickly and profitably. Seeing how beautiful you can make their home look will make them want to list with you.
Work with other clients: The addition of professional photos to your portfolio and listings is a powerful way to attract future clients. Your listings will start getting more attention, and your reputation as an effective real estate agent or broker who sells homes quickly will be firmly established, making you more desirable to other clients. This can greatly increase your business and your edge over the competition.
Improve your online presence: Since most home buyers today use social media during their home search, it's important to have engaging photos that can be seen and shared by viewers nationwide. You can use your professional images to increase your social media following and produce beautiful posts that will attract more attention, leads and clients. Social media also allows you to effectively target your ideal audiences and promote your business for a fraction of the cost of traditional advertising.
When considering whether or not to hire a professional photographer, consider that the benefits such as the convenience, superior image quality and quicker and higher priced home sales far outweigh the associated costs.
Contact Us Today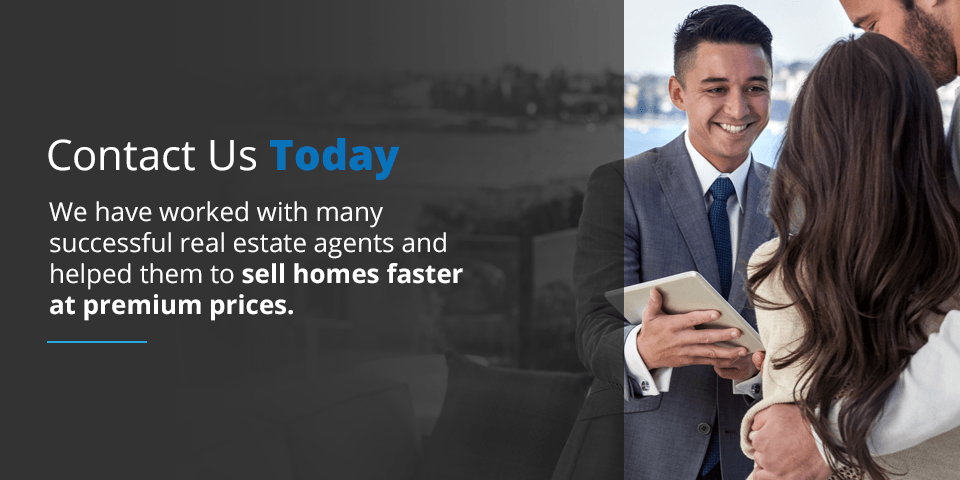 Real Estate Exposures has a team of expert real estate professionals. We have worked with many successful real estate agents and helped them to sell homes faster at premium prices. Call us now at 717-747-3235 to book a photo session, or contact us online to get answers to all your questions about professional real estate photography.
Schedule Your Session
Related Services:
GOT ANY QUESTIONS?
Contact us today – you can call, email, or schedule online!
Contact Us
Recent Blogs