Matterport Virtual Tours & Marketing for Realtors
3 January, 2017
Market any listing with Matterport Virtual Tours.
A home as small as a trailer can be photographed with Matterport to create a virtual tour.
In fact, last year an agent in California sold over 80 trailer homes using Matterport in their marketing!
Matterport is an international technology company that began in Silicon Valley in 2011.  Since inception, Matterport has helped virtual media companies, Realtors, and businesses create over 300,000 spaces that have been viewed over 90,000,000 times.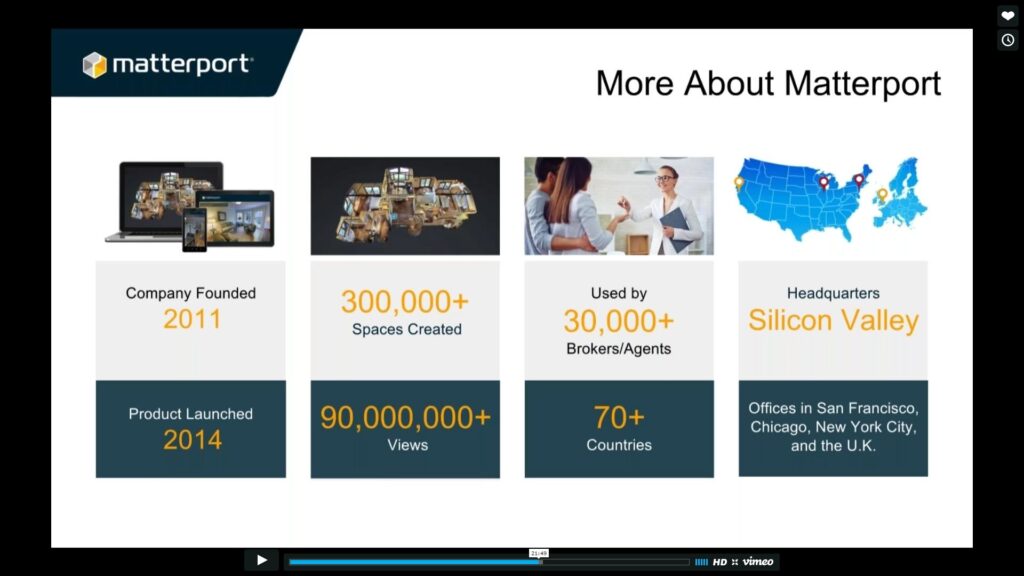 Even though they are a tech company at heart, Matterport is highly invested in seeing Realtors succeed!
Each year they do their own market research to develop an understanding of the trends in real estate and better serve their clients.
Today we are going to share with you some of these trends published by Matterport and talk about how their 3D Modeling, Dollhouse & Walk-through views, and Floorplans can be added to your marketing.
Current Trends in Real Estate 2017
Matterport surveyed hundreds of Realtors — those attending their webinars and at conferences — to find out how much they are spending on marketing their listings.
They found that 56% of realtors spent more than $200 dollars on marketing a listing!
This number shows the competitive nature of the current market.  And the competition is only going to grow more fierce.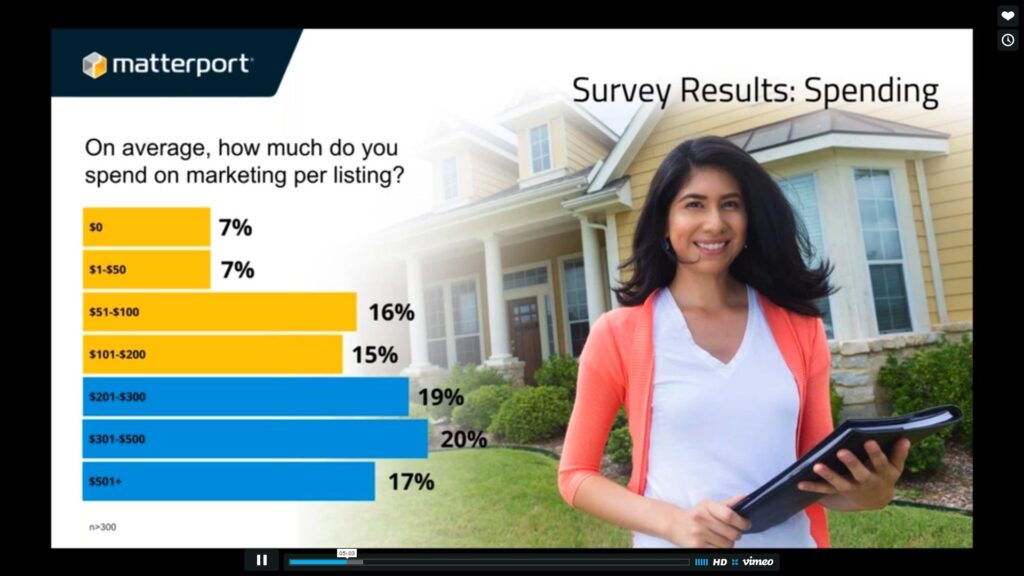 In 2016, Realtors are younger than ever, shaving several years off their average age than the previous decade. Because of their youthful tech-savviness, these younger Realtors are using a healthy marketing mix of traditional and new medias.
In the image below you will find traditional marketing methods in yellow and new marketing medias in blue.
It's no surprise that Facebook is high on the list — it's a great way to get your listings out in front of hundreds of people by using your friends or a Business Page.
Based on Matterport's research, paid search and outbound email are more specialized marketing tactics. Today these methods could bring great results because not many Realtors are using them.
Of course, adding Matterport virtual tours to your marketing mix can differentiate you from the more generic forms of marketing out there.  Their system not only allows you to create great 3D models but helps to capture leads and directly follow up with interested buyers viewing the virtual tours online!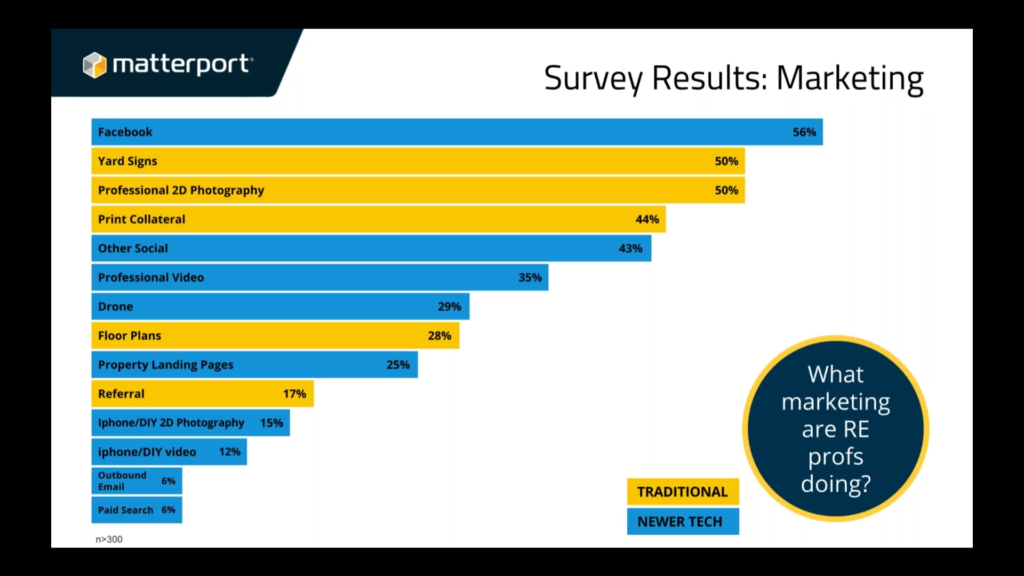 Matterport has also researched and explored how often and what Realtors look for when using professional photography.
Quality of the photography was the most defining factor Realtors sought in a professional photographer.  Followed not so closely by price — this shows quality matters more!  And this is backed up by an article published by the Wall Street Journal showing how homebuyers engage with quality photography.
Today, if you're not a Realtor using professional photography always or frequently, you are getting left behind.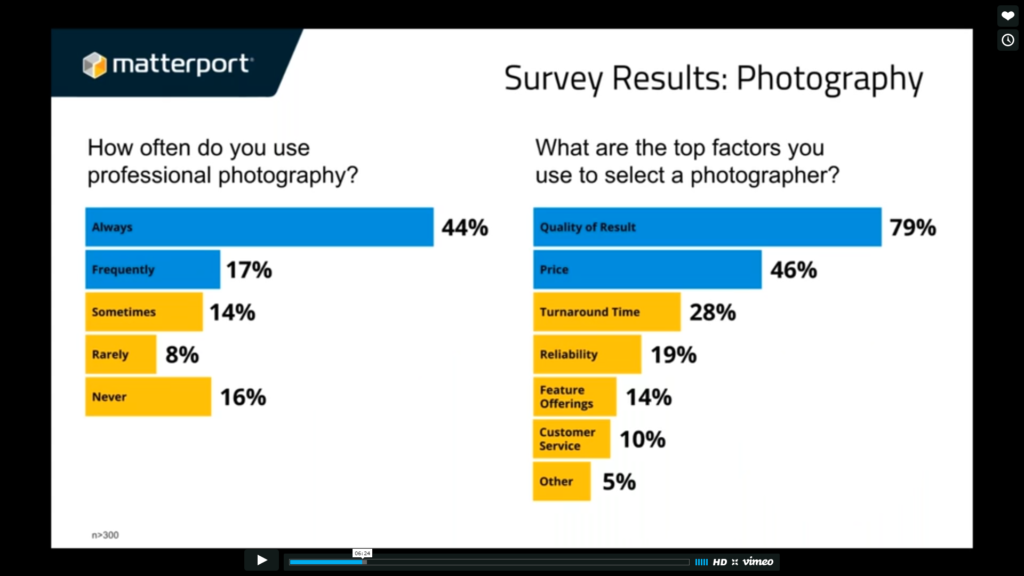 Changing Landscape of Real Estate
As we enter 2017 home buyers are younger than ever.
Research by Realtor.com shows that 90% of home buyers are 35 years old or younger. Because this generation is so inundated with technology, new medias need to be brought into your marketing mix to stay relevant and reach this audience.
Realtors using dynamic visual content can expect 403% more inquiries on their listings. And research shows that 49% more qualified leads come from 3D tours — just like the ones you can receive from Matterport.
This means that you as a Realtor need to be prepared to market online and off with great digital content.
Technology grabs the attention of today's buyers.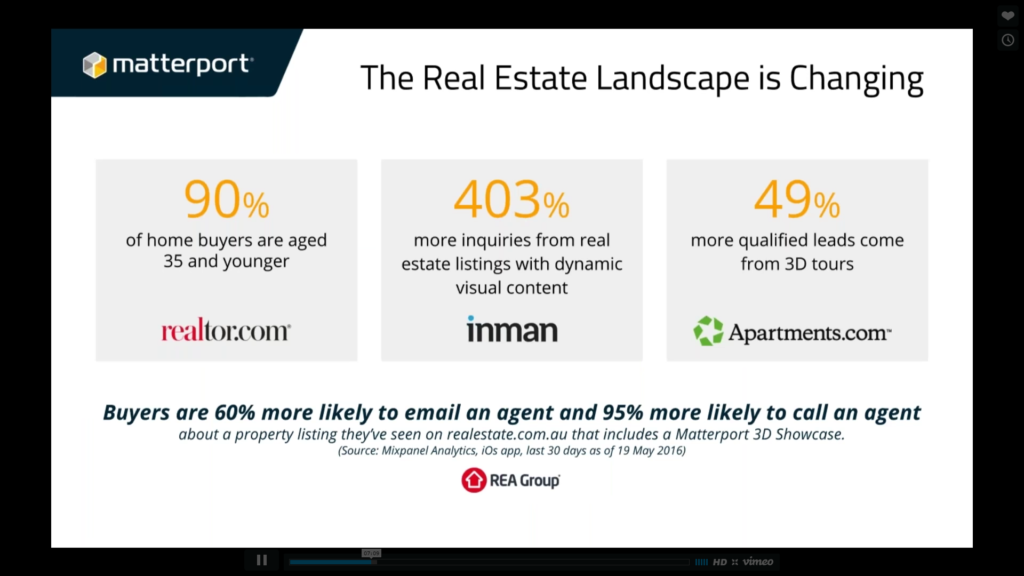 Matterport's Product and System
If you've never experienced a Matterport Virtual Tours presentation, prepare to be amazed.
Before we go any further in this article, go ahead and take a moment to play with the model below. This is a 3D Walk-through and dollhouse of a home photographed by Real Estate Exposures.
Notice how the presentation works flawlessly across desktop and mobile devices.
Matterport's robust presentation system now includes iOS and other proprietary apps that quickly allow you to showcase homes and push media to popular marketing channels.
This makes it a snap to communicate and reach potential clients where they are online and wherever they are in the world — even allowing you to promote your posts with PPC advertising on Facebook or Google.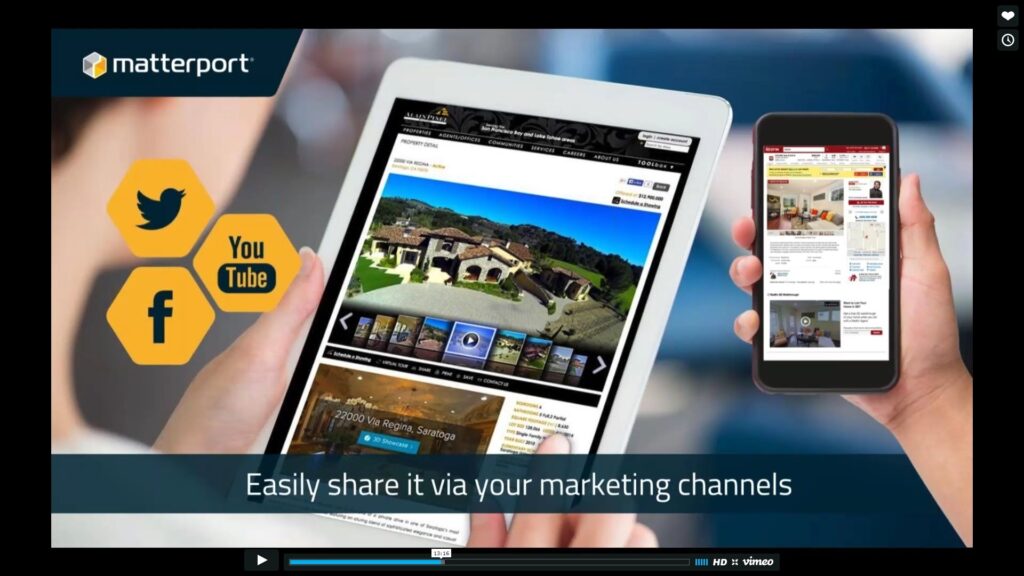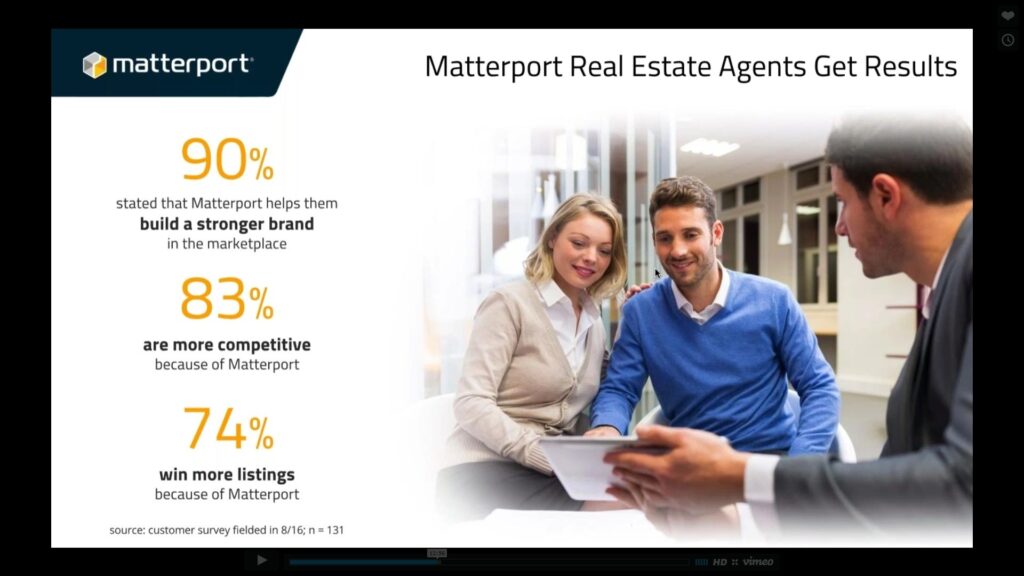 To support these channels, Matterport conducted research to prove their product helps Realtors get results.
They have hundreds of stories and the statistics to show they've helped Agents win listings due to competitive advantage.  See some of those statistics in the image above.
Because Matterport is a technology company, they are rapidly growing and adapting how they can help you showcase and market your listings.  They bring innovative technology to bear on a weekly basis.
Recently Matterport enabled Virtual Reality tours with the VR headset from Samsung. Imagine taking potential buyers on tours of listings without having to leave your office!
This will be a game changer–saving you time prequalifying buyers and understanding their interests. Or if buyers are coming from out of town–even anywhere in the world–you can be prepared by showing them Virtual Tours in advance.
Of course, virtual reality isn't the only marketing feature Matterport brings to the table.
They have guided tours, 360 views, mobile engagement, and storytelling features that allow the Realtor to showcase different features of the home.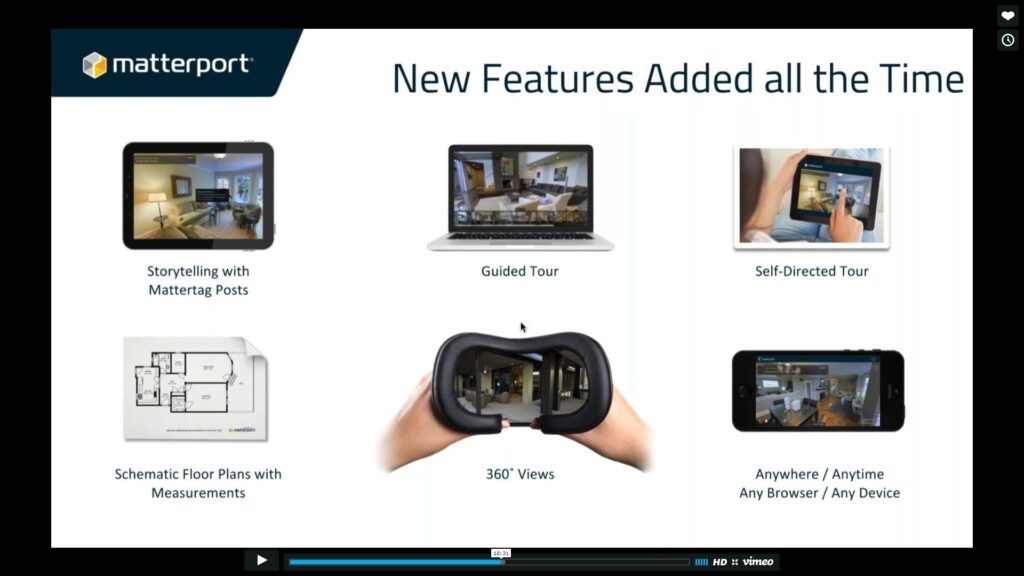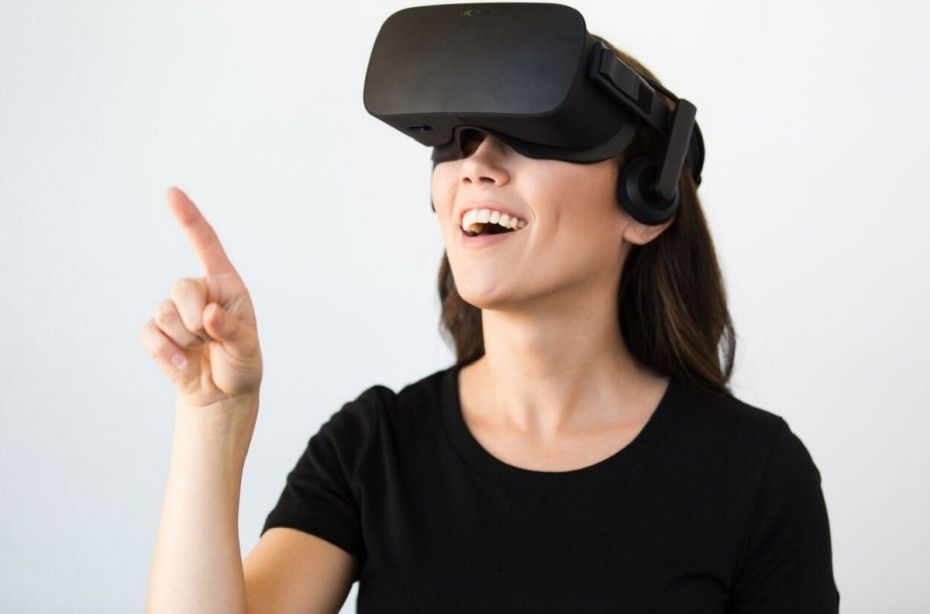 So Who is Using Matterport?
Today, over 30,000 forward-thinking Realtors and hundreds of brokerages are using Matterport to gain a competitive advantage when marketing their listings.
Commercial brokerages and architecture firms are also taking advantage of Matterport technology to bring properties to their clients worldwide.
Real Estate Exposures is a provider of Matterport Virtual Tours for the Pennsylvania and Maryland markets.
Our clients — Realtors, Commercial Brokerages, and Businesses — have found Matterport to be wildly successful.  They say it has:
Widened the net of people who have viewed the property
Built buzz before the first open house
Cultivated serious buyers ready to act on the listing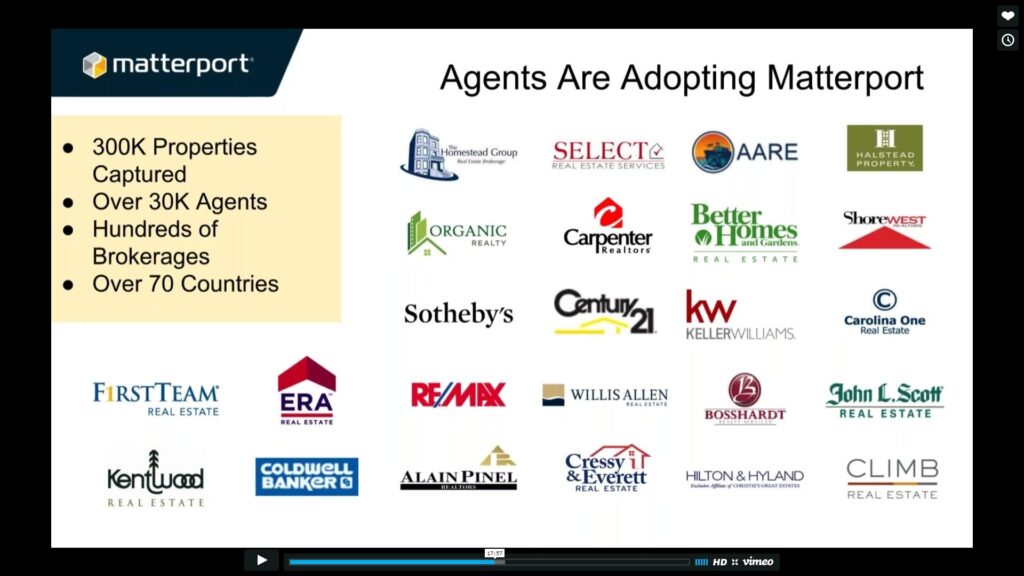 Next Steps
Discover more about the Matterport product and how it can market your listings, please visit our Matterport information page for more information.
Understand how you can use Matterport to sell listings faster, for more money.
Get exclusive access to Matterport in our market area by contacting Real Estate Exposures through our Matterport page.
If you have any questions about Matterport, we would be happy to address them by phone – 717-360-8687, or by email – info@realestateexposures.com.  Feel free to reach out at any time and one of our trusted photographers will touch base with you about your needs.

GOT ANY QUESTIONS?
Contact us today – you can call, email, or schedule online!
Contact Us
Recent Blogs