Choosing the Right Corporate Photographer for Your Business
Schedule Your Session View Our Business Photography Services
Table of Contents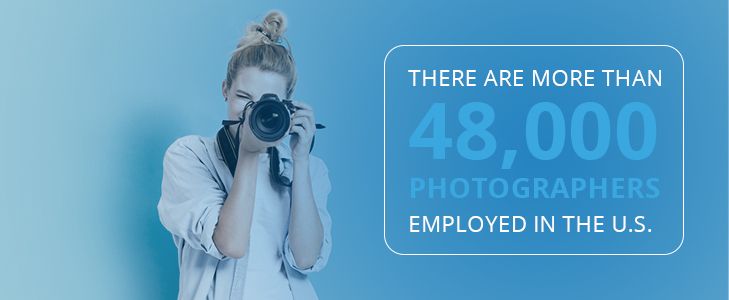 Your images create your image. The photos, videos and other marketing materials you share with the public directly affect how consumers view your business. They shape your brand and influence customer decisions. They are an integral part of your business plan. Because they play such a large role, it is crucial to choose the best corporate photographer to produce these images for your company.
This process requires diligence. While you may stumble onto a decent photographer by chance, it is more likely you will need to research, interview and properly vet various professionals to discover the best business photography company for your needs. Based on Bureau of Labor Statistics data, there are more than 48,000 photographers employed in the U.S. Are all of these professionals right for your project? No. You must narrow your search by looking for the best corporate photographer to meet your unique needs.
To start this process, you must know what to look for in a corporate photographer. Read on to learn what that is and how to find the right one.
Characteristics of a Quality Corporate Photographer
Certain qualities are essential for the photographer to provide top-level services that will enhance your marketing and business. Look for the following traits as you search for the best corporate photographer.
Brand Awareness
Is the corporate photographer aware of your brand and its values? If not, they should investigate and educate themselves about your business. In order to portray your company appropriately in images, they must know what image you want to convey:
What are your goals?
What are you known for?
What do you want to be known for?
If the corporate photographer doesn't ask any questions along these lines, you should consider whether or not they are the best business photography option for you. The best corporate photographer will know the ins and outs of your company's brand and be able to properly convey your message to the public, from stills to virtual tour services.
Cultural Awareness
What is the culture of your business? What is the culture of your customers? In addition to familiarity with your brand, the corporate photographer should be aware of the culture surrounding your company and its customers. This affects how consumers respond to your messages and what approaches they will find appealing or offensive.
For example, if you are trying to appeal to vegetarians, your images shouldn't portray people grilling hamburgers. Or, if you are trying to appeal to high-end vacationers, your photos should portray high-end vacation spots and exclusive activities. Avoiding any sensitivities and focusing on cultural strengths are important tasks for the corporate photographer.
Dedication to Your Company
Today's technology makes snapping pictures almost as common as breathing. This leads some to believe photography is a quick and simple process. This is far from the truth. The best business photography takes time. A quality corporate photographer is willing to dedicate the time needed to ensure the best results for your business.
Beyond researching your company culture and values, they must devote time to the technical sides of the project. They should show a willingness to invest the time and resources to:
Set up the proper lighting
Use the appropriate people and props
Create the ideal setting for your shoot
The public will be able to tell if your images were a rush job. They may not know the technical reasons why your message isn't appealing, but they will feel turned off nonetheless.
Exposure and Special Expertise
Where do you need marketplace exposure? What audience do you need to reach? The best corporate photographer will help you expand your platform in the right areas.
If you need virtual tour services to attract more business, make sure this is one of their specialties. If you require razor-sharp, attention-grabbing images for social media blasts, this should be their expertise. Find a corporate photographer who offers the right skill set for the exposure you desire. This may include a strong network of connections to various media outlets you can tap into for further exposure.
$30 Off Your First Session
Questions to Ask a Corporate Photographer
Once you've found a corporate photographer who you believe exhibits the qualities listed above, you can move on to the next step in how to find a business photographer. This involves asking the right questions to discover if the corporate photographer is appropriately qualified and will offer a positive experience for you and your business.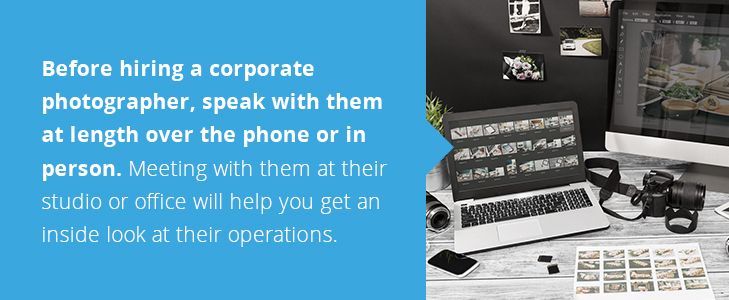 If you are considering hiring a certain corporate photographer, speak with them at length over the phone or in person. Meeting with them at their studio or office will help you get an inside look at their operations for further insight into their business. If they use this space to create your images, you and the photographer can assess whether it's a good fit for your needs. It's a good sign if they are willing to give you a tour.
As you meet with various photographers, use the following interview questions to narrow your search.
What Experience Do You Have With Corporate Photography? 
The best corporate photographer will have extensive experience in the industry. Look for a long track record of success. In addition to longevity, look for specialties.
Do they have experience with the particular type of project you desire? If you need virtual tour services, but the photographer offers 20 years of experience with stills, this might not be a good fit. You don't want to be the guinea pig for a photographer to test their skills in a new area. Look for the proper expertise to ensure your project looks like it was completed by an expert.
Can You Provide References and Samples? 
An established corporate photographer can supply references, testimonials and samples of their previous work. If they are a professional worth hiring, they have been hired before and have completed successful projects. Ask them to provide evidence they are worth your investment.
They should be able to point to satisfied customers for references, online reviews or other sources that can testify to their achievements. They should also offer samples of their work. This could include an online portfolio, physical samples, a tour of their studio or other examples of their work currently in the marketplace. If you like what you see and hear, this is a good sign that you've found the best corporate photographer for your needs.
Are You Insured? 
It's likely the photographer will use your property as a location for a shoot or virtual tour services. You may have customers on-site at the same time. Equipment that could pose a hazard may also be present. It's important for the photographer to have protection for both their own staff and your staff and customers. Liability is a top concern for any business in today's marketplace. Find out what coverage they have to ensure you are both protected.
What Do You Require of Me? 
It's important to know what role you will play if you work with a particular corporate photographer. Understand their expectations from the beginning:
What will they need from you?
Will you supply product, props or people?
Will you need to be present during a shoot or virtual tour recording?
How many meetings will be involved to review their work or answer questions?
Asking these questions will help you determine if the photographer's needs and style are a good fit for what you want from a corporate photographer.
What Schedule Can I Expect? 
Find out what you can expect for a timeline of completion. How far out is the corporate photographer booked? Will they be able to start on your project when you need them? Once they begin, how long will it take to complete?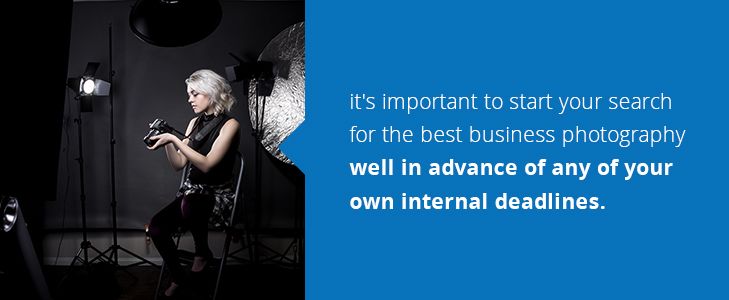 If you need images for a marketing campaign next month, but they can't have everything processed for six weeks, you'll have to find someone else who can work with your timeline. Learn when they can get you on their calendar as well as when they will deliver the finished project.
Keep in mind, quality corporate photographers keep busy schedules due to their polished work that produces high demand. Because of this, it's important to start your search for the best business photography well in advance of any of your own internal advertising, video or marketing deadlines.
Do You Have the Equipment and Staff to Meet the Needs of My Business? 
As you discuss the corporate photographer's expectations, abilities and schedule, the answer to this question will probably become clear. Be sure to ask what the photographer can bring to the table:
If you need a studio, models, props and top-of-the-line lighting and imaging equipment, does the photographer have all this?
If you need assistance or have questions, do they have people in place to help you?
Depending on your needs, it might be best to choose a small shop or a large corporate photographer. The important thing to determine is whether or not the business can handle your project well.
What Is Your Licensing Agreement? 
Once you have the photos or video in hand, the corporate photographer may still hold licensing rights to the work. Find out what you will be allowed to do with the products, how you can and can't use them, and what attribution you must provide.
Depending on your agreement with the corporate photographer or their professional policies, they may retain all rights to the products or release them to you so you can use them as you wish. Another scenario is a time-limited licensing, under which the photographer maintains rights to the images for a period of time.
Do You Guarantee Your Work? 
Discuss what guarantees the corporate photographer has in place for their clients. What happens if you are unhappy with their work? What if there is a technical issue and all the images are lost? What if weather interferes with a shoot?
An established corporate photographer will have policies in place to handle these and similar situations. They should offer, in writing, what their policies are, including whether or not refunds are issued, products get replaced or any other guarantees they provide.
How Much Do You Charge? 
Of course, one of your main questions must cover how much the best photographer's or virtual tour provider's services cost. It can be helpful to contact several corporate photographers so you can compare rates, especially if you are not familiar with typical photographer fees.
As you look at their price lists, remember the most expensive is not necessarily the best, and the cheapest is not necessarily the worst. Additionally, if one corporate photographer's rates differ greatly from others', find out if there is a reason why. If they are much higher, do they offer more services or better quality? If they seem like a bargain, do they cut corners that will produce low-budget products?
How Do You Establish Your Rate? 
As you explore the costs of various corporate photographers, be sure you compare apples to apples. Some photographers charge an hourly rate, while others may charge per day or half day. Still others may estimate the time required for your project and provide a flat project rate. No matter which method they use to arrive at their price, they will most likely include four main factors in their total:
The time commitment
The amount of editing required
The location
Where and how the images will be used
Why Hire a Corporate Photographer?
The New York Times estimates a total of at least 1.3 trillion digital photos were snapped in 2017. Seventy-five percent of these images were taken with a phone. It seems everyone today is an amateur photographer. Nearly all Americans have access to a camera and can capture a moment in an instant. The key concept to remember amidst all these flashes and clicks is quality. How many of these trillion images are worthy of sharing with the public? How many could sell your products or services?

When you hire a corporate photographer, you are getting more than a fancy camera. You gain access to quality equipment and a quality photographer. You tap into the skills they offer that will help enhance your brand and get the public to notice your offerings. They have the know-how to create the composition you need to deliver images with impact. They can make you stand out among the myriad images consumers see each day.
Think of your corporate photographer as an investment with great ROI. For their fee, you get great images, video or virtual tour services that can attract business for years to come. The time and financial investment required will be well worth it.
Who Should You Hire for the Best Business Photography?
You want a professional service at a good price. You want a corporate photographer who will meet your needs and deliver impeccable results. You want someone you can count on to produce quality products and services.
You can find all this and more at Real Estate Exposures. We provide premium corporate photography and virtual tour services for Realtors and businesses. Our services empower your marketing initiatives to enhance your brand, increase sales and grow your business. Our products and services include:
Premium Photography
Aerial Photography
Matterport 3D Walk-throughs
Business Photography
Custom Listing Flyers with Overnight Shipping
Google Business Virtual Tours
Visit our business and real estate photography pages to view samples of our stellar work. For the best in business photography, contact our team today. We look forward to partnering with you for success.
GOT ANY QUESTIONS?
Contact us today – you can call, email, or schedule online!
Contact Us
Recent Blogs